Nyquist can help educate and support your conversion to the world's leading waterborne products. It's more than a Program…it's a partnership for long-term success.
Over the past decade, the use of waterborne technologies have been rapidly growing, driven by a various influences in the Automotive Refinish industry. Accordingly, waterborne products and applications continue to be popular topics among collision shops and manufacturers throughout North America.
OE TRENDS
At the OE level, the automakers continue to differentiate their vehicles with highly chromatic exterior colors while choosing waterborne basecoat as the technology of choice on the majority of new vehicles being produced today.
REGULATORY TRENDS
At the regulatory level, mandated air quality regulations requiring waterborne or low VOC coatings in various regions throughout North American focuses on protecting the environment and improving air quality control. Starting in the California, several regulatory agencies have adopted regulatory efforts requiring waterborne or low-VOC solutions.
GOING GREEN
While the performance of PPG and Akzo-Nobel waterborne products are significant, shops across North America have adopted the use of waterborne products for the environmental-friendly benefits to their customers and communities. The reduced emission levels offered by both PPG and Akzo-Nobel waterborne products are truly making a positive difference for the environment by improving the air quality, while promoting the health and safety of their employees.
ENVIRONMENTALLY FRIENDLY, INDUSTRY-LEADING PRODUCTIVITY
The PPG and Akzo-Nobel waterborne basecoat systems are premium-quality solutions for today's forward-thinking collision center. Featuring the latest waterborne technologies, both platforms are engineered to match today's more sophisticated OEM colors. Key advantages include accurate color matches, industry-leading productivity and unsurpassed cost savings. With more than 12,000+ collision centers in North America using PPG and Akzo-Nobel waterborne products are trusted and proven industry-leading technologies in the collision industry.
WE ARE THE WATERBORNE EXPERTS
With over 800+ customers currently using waterborne products, you can be confident that your local, highly-trained Nyquist team has the experience, knowledge and resources to effectively and efficiently convert your business to waterborne products. Nyquist has developed a comprehensive conversion process that will make any shop's conversion seamless…from start to finish.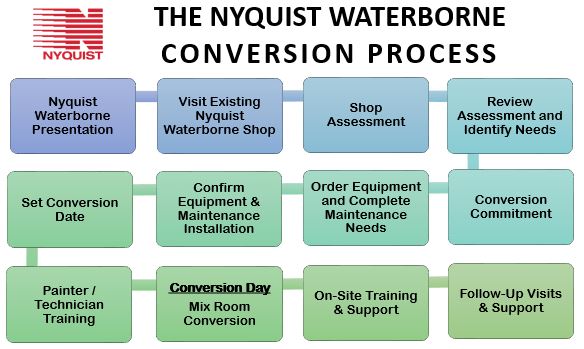 As a true partner in the waterborne conversion process, you can count on Nyquist to be there at every step of the conversion process. Here is what you can expect from the Nyquist team during your conversion to waterborne products:
A true, trusted partner that will guide through the conversion process from start to finish
An in-depth and comprehensive shop assessment and analysis to ensure all preliminary milestones are met to ensure a seamless and successful conversion
A close partnership with PPG & Akzo-Nobel representatives and products
Certified Technical Service Representatives that will provide the technical support and service that you need at every step of the conversion process
Equipment partners specializing in state of the art waterborne equipment
A comprehensive conversion process that has been successful in over 800+ conversions since 2009.
Comprehensive training and post-conversion support to ensure continued success
Contact your local Nyquist representative to learn more about the benefits and advantages of waterborne products. Let us show you why we are considered "The Waterborne Experts".